Water Treatment Equipment

Installation Services
---
Comprehensive Installation Services
Water Treatment Equipment Installation
Water Installation Experts for Businesses and Industrial Customers
Complete Water Solutions offers comprehensive installation services for commercial properties, industrial companies, and manufacturing facilities. Our services and custom-designed water treatment equipment simply can't be found anywhere else in the Midwest. From installing fully equipped water treatment systems to designing custom water systems, your newly installed equipment will run as smoothly and efficiently as possible.
Get a water treatment system you can depend on installed by the certified technicians of Complete Water Solutions. Our industrial strength water treatment can purify water at your facility, making for more efficient work as poor water performance and shutdowns are avoided. Newly installed reverse osmosis equipment can give your facility water that is safe for production and could lower operating costs. And a new water softener at your location will improve the quality of your boiler system. New water system equipment installed by Complete Water Solutions technicians can save you money in the long run and give you instantly clear, pure water.
Reasons to Have New Water Filtration Equipment Installed by the Pros
The current water treatment system is inefficient
The water system is outdated or no longer manufactured
Constant repairs and maintenance required on the system
The system lacks reliability to produce high purity water
Water quality decreases (turbidity, hardness, increased conductivity)
Growing utility bill from increased water usage
All of these problems can be fixed with newly installed equipment from Complete Water Solutions. Our service team can drastically improve the quality of your water and save you money.
Turnkey Installation of Water Treatment Equipment
Complete Water Solutions offers a full turnkey solution when it comes to installing your new water treatment system. Some of these services include:
Design engineering
CAD drawings
Demolition of existing equipment
Equipment placement
Piping

PVC
Galvanized
Copper
Stainless Steel

Electrical
Controls programming
Media loading
RO Membrane Installation
Start-Up
Warranty Paper Work
NSF Documentation
Training
Reverse Osmosis certified on-line training
Industrial Water Systems
When your industrial facility needs a water treatment system installed, our field service water experts have it covered. With our years of experience and knowledge, along with access to top of the line products, your business will see why Complete Water Solutions comes so highly recommended and why we are their go-to water treatment company! We are able to quickly take care of emergency industrial water system repairs when other companies cannot. Complete Water Solutions always looks to provide the best solution for your water treatment system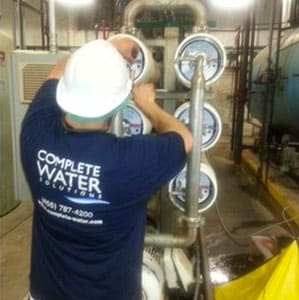 Whole Facility Water System Installation
Complete Water Solutions offers the experience, knowledge, and resources of a large company yet Complete Water Solutions has the flexibility of a small business. No matter the level of installation you are looking at, we always provide top-of-the-line service with industry-leading products, like Osmonics, Fleck, and Autotrol. If you need commercial or industrial water treatment in the United States then Complete Water Solutions is your go-to company.
Industrial Water Systems
While you can certainly install your own industrial water treatment system we highly recommend using Service Professional with extensive experience to install your system. We understand that not all new water treatment system projects are able to be installed by the company who sold it. At the very minimum, we would highly recommend having the technician on-site to help answer questions and perform a start-up. This is especially important when it comes to custom design and reverse osmosis equipment
When Reverse Osmosis equipment is installed improperly, you can damage the system. Some examples can include failing to install a vacuum breaker or improper piping. These items can result in damage that is irreversible and can cost tens of thousands to repair.
Start-Up & Training on Your Water System
We don't just install your water treatment system, our staff makes sure you are 100% confident on how to maintain it. Guaranteeing you feel comfortable doing the regular maintenance on your new water system, like changing the filters when it comes time. Our elite trained team members will make sure you know how to operate your new water system before they leave. We can also record a video of the demonstration to give you something to rely on for future reference. Just ask!